Venice > Local transportation > Water buses
Venice Water Buses
How to use public transportation in Venice
Last updated June, 2022
ABOVE: A vaporetto or public water bus (left) travels on the Grand Canal near the Rialto Bridge. (On the right is a private water taxi.)
In Venice's centro storico or historic center, which is made up of more than 100 islands, water buses are the equivalent of buses and subways on dry land.
ACTV, the public-transportation authority in Venice, operates vaporetti and other water buses around the clock, with a fleet of 150 boats and routes that extend into the far corners of the Venetian Lagoon.
Venice is a small city, and you can walk nearly to nearly any street, square, monument, or hotel within the historic center in 30 minutes or less. Still, there are times when you'll want to take a water bus, such as:
If you're staying outside the center on an island such as the Lido di Venezia or La Giudecca (site of the Venice Hostel);

When you want to visit the islands of the Lagoon, including the glassmaking island of Murano;

When you want to spend 45 minutes or so cruising up or down the Grand Canal on the No. 1 vaporetto line;

When you're tired after a day's sightseeing and you're willing to pay a premium for a ride back to the neighborhood where you're staying.
In this article, we'll describe the different types of vaporetti, motoscafi, and motonavi in Venice's ACTV fleet.
We'll also tell you how to board and use the boats, how to avoid crowds during high season and holiday weekends, and what you need to know before boarding a water bus with luggage.
For even more information (including routes, fares, and tourist passes), please click the links in the "Related articles" menu at the bottom of each page.
---
Types of water buses
ABOVE: The passenger cabin of a No. 1 vaporetto on the Grand Canal.
Venice's ACTV transit authority has four main categories of passenger boats. You'll encounter the first two types, vaporetti and motoscafi, on rides within the city center:
Vaporetto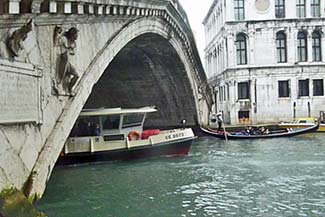 The word "vaporetto" is often used to mean any kind of ACTV water bus, but officially, the term refers to flat-decked, single-level vessels such as the boats on Line 1 (Grand Canal to Lido) and Line 2 (Grand Canal and Giudecca Canal).
These vaporetti are fully accessible by wheelchairs, strollers, baby buggies, and wheeled luggage, and there are no steps between the entrance and the passenger cabin.
The boats also have large open spaces in the center, by the boarding area, where passengers can stand and enjoy the fresh air. A small open seating area is in the stern, behind the cabin.
On older vaporetti, seating is also available in the bow. (Bow seats have been eliminated on newer boats, since clueless passengers sometimes stand up and block the captains' view.)
The average capacity of a vaporetto is 230 passengers. Some readers have asked if these standard vaporetti have toilets. The answer is "No."
---

---
Motoscafo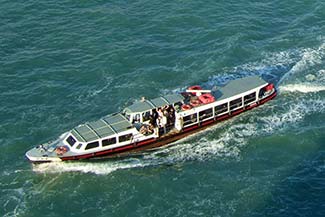 Motoscafi are more streamlined and protected from the elements than vaporetti are, with fore and aft passenger cabins that are recessed in the hull.
They're used on routes such as the 4.1/4.2 and 5.1/5.2, which travel outside the sheltered waters of the Grand Canal, Giudecca Canal, and St. Mark's Basin.
In recent years, motoscafi have been redesigned with space for wheelchairs on the entrance decks. Steps lead down to the passenger cabins, where views are limited by the high, narrow windows.
The average capacity of a motoscafo is 160 passengers.
Motoscafi do not have toilets.
Motonave (single deck)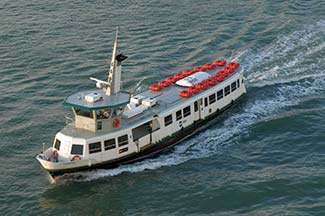 On a handful of lines such as the Linea 12 route to Murano, Burano, and more distant points in the Venetian Lagoon, ACTV runs single-deck motonavi (motorships) that look like wide-bodied vaporetti.
The wheelchair-accessible boats have large twin-aisle cabins, a few open-air seats in the stern, and capacities of up to 600 passengers. Unlike conventional water buses, these larger boats have toilets, although the toilets weren't working the last time we checked because they didn't comply with new environmental regulations.
Alilaguna, a company that runs a scheduled airport-boat service between Marco Polo Airport and Venice, uses similar motonavi on some of its busier routes.
Motonave (double deck)
Double-decked motonavi operate between Venice S. Zaccaria Pietà (near the Piazza San Marco), the Lido, and commuter suburbs in the northern reaches of the Venetian Lagoon. The wheelchair-accessible ships can carry up to 1,200 passengers.
Note: All of the passenger boats shown above are operated by ACTV, and all use the same fares and tickets. (Different fares apply to ACTV car ferries.) The boats have Turkish-style squat toilets that have been shut down for pollution reasons until further notice.
---
Traveling by vaporetto
ABOVE: A beagle enjoys the view from a No. 2 vaporetto.
Riding a vaporetto, motoscafo, or motonave in Venice isn't any more complicated than riding a subway or city bus. (Unfortunately, it's quite a bit more expensive, as you'll see when you read our Vaporetto Fares article.)
Here's what you need to know before traveling on a public water bus:
1. Look for an ACTV stop.
ACTV waterbus stops are shown on most Venice maps, and you'll often see signs pointing to vaporetto stops when you're walking around the city. The stops are easy to recognize by their yellow-and-white floating platforms.
Note: Be sure that you're at a stop for the line that you want to take. At larger stops, which have multiple platforms, look for signs that indicate boat numbers and direction of travel (e.g., No. 1 toward San Marco or Piazzale Roma).
2. Buy a ticket or pass.
You can buy waterbus tickets or an 24-hour to 7-day ACTV Tourist Pass from any ACTV/Hellovenezia biglietteria (ticket booth) or from the ACTV ticket machines at larger boat stops.
Another (and more expensive) option is to buy a Venezia Unica city pass (tourist version), which offers additional services such as city museums and public toilets.
If you plan to be in Venice for more than a few weeks during the next five years and expect to use public transportation often, the Venezia Unica city pass (long-term version)--which allows you travel at cheap resident fares--may be worth the hefty upfront fee.
3. Validate your ticket.
At every ACTV stop, you'll see a white electronic ticket reader near the entrance to the floating boat platform. Hold your ticket or pass up to the ticket reader, and listen for the beep or wait for the green light to flash.
At an increasing number of boat stops, you'll also encounter gates or turnstiles that are locked until you've swiped your ticket.

Note: At larger ACTV stations, you may also see green ticket readers (shown above). These are "read-only" devices that let you check how many trips are left on your ticket. They won't deduct a fare or validate your ticket for your current trip.
If you don't have a ticket and there's no booth or machine at the ACTV stop, read this and proceed at your own risk.
Tip: Look for a boat timetable near the ticket reader.
4. Cross the walkway to the platform.
Be sure to enter the waiting area (not the exit, which is usually marked with a red-and-white "no entry" symbol).
Note: ACTV platforms float up and down with the tides, which means the platform and the boat are on the same level. This makes water buses easier to board than water taxis, especially if you're traveling with a wheelchair, stroller, or wheeled suitcase.
5. Wait for the water bus.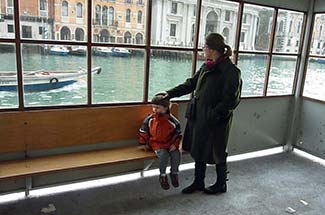 When the water bus arrives, stay behind the yellow line until disembarking passengers are off the boat and the sailor indicates that you can board.
(Venetians are often given priority over visitors, despite paying only a fifth of the normal tourist fare.)
Note: You won't need to show your validated ticket or pass unless an inspector asks to see it.
---
More vaporetto tips and warnings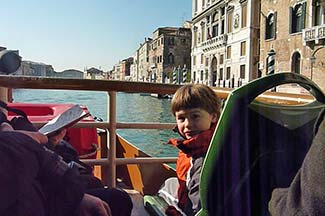 ABOVE: On older vaporetti, look for seating in the bow.
These random bits of advice can help to make your waterbus travel more enjoyable:
Tip 1: Plan ahead to save money.
ACTV boat fares for visitors are outrageous: As a tourist, you'll pay about six times the resident rate for a single vaporetto ticket.
Fortunately, you can shrink the cost dramatically with ACTV Travel Passes, which offer unlimited boat travel for periods of 12 hours to 7 days. For example, with a 12- to 24-hour card, you could:
Plan a do-it-yourself lagoon islands tour of the San Michele island cemetery, the glassmaking center of Murano, the more remote islands of Burano and Torcello, and possibly the Lido, where you can walk down the main shopping street to a beach on the Adriatic Sea.
Catch a boat to the island church and bell tower of San Giorgio Maggiore, followed by a short cruise down the Giudecca Canal on the No. 2 vaporetto.

Wrap up your day with a leisurely cruise up the Grand Canal on the No. 1 vaporetto (see Tip 3 below).
Tip 2: Don't ride when you can walk.
As we mentioned earlier in this article, Venice is a compact city, and walking across town can be faster than taking a water bus.
Use the vaporetti, motoscafi, and motonavi when you need them (for example, to reach islands in the Lagoon), but save time and money by walking whenever you can.
Tip 3: Cruise up the Grand Canal at night.
Note that we said up the Grand Canal.
By taking the No. 1 vaporetto up the canal from the Piazzale Roma to San Marco or San Zaccaria (or even to the Lido, if you don't mind taking another boat back), you'll avoid the hordes of daytrippers who head down the Grand Canal to the Ferrovia (railroad station), the buses at Piazzale Roma, and the Tronchetto parking garage at the end of the day.
The No. 1 water bus zigzags across the Grand Canal during the approximately 45-minute trip from the Piazzale Roma to San Marco.
It also goes under the Rialto Bridge and offers great nighttime views of ornate ceilings and chandeliers inside the historic palazzi that line both sides of the canal.
Tip 4: Know where to sit on the water bus.
Flat-decked vaporetti, such as the No. 1 and No. 2 lines, have sheltered outdoor seating areas in the stern (accessible through doors at the back of the passenger cabin) and--on older boats--in the bow.
These seats are great for sightseeing, and you'll have the best chance of nabbing them if you board at the waterbus line's starting point (such as the Piazzale Roma if you're cruising up the Grand Canal toward San Marco).
Tip 5: Minimize your luggage.
On water buses, you're allowed to carry one piece of luggage with a combined length, width, and height of 150 cm (60 inches) or less.
For more baggage, or for a larger suitcase, you may need to pay a fare supplement. Ask the agent in the ticket booth or the sailor on the water bus as you board.
Tip 6: Read our other vaporetto articles.
For starters, see our guides to Vaporetto Routes and Vaporetto Fares.
Other useful articles include Buying Vaporetto Tickets, ACTV Ticket Machines, "Which Venice transportation pass do I need?", ACTV Travel Passes, the Venezia Unica pass for tourists (formerly VeniceConnected), and the Venezia Unica pass for long-term visitors and residents (formerly iMob/CartaVenezia).
---
---
Warning: Beware of pickpockets.
Venice has one of the lowest crime rates in Europe, but during high season or at holiday periods, professional pickpockets and other thieves migrate to popular tourist destinations (including Venice).
To frustrate thieves, use common sense: Don't carry your passport or wallet in an easy-to-reach pocket, keep your purse where you can see it, and don't set down your tote or camera bag on a busy vaporetto where a crook might be lurking in the crowd.