We admit to having mixed feelings about the term "budget travel," because for us, travel isn't about money--it's about seeing new places and enjoying new experiences. And besides, some travelers like to splurge.
But even if you can afford an upscale trip, why throw money away when you don't have to? And if you are watching your euros, pounds, dollars, rupees, ringgit, or yen, the words "wasting money" shouldn't be in your vocabulary.
In this series of money-saving tips, we describe easy ways to make the most of any travel budget. Some of our advice is targeted to North American and British travelers, but for the most part, our suggedstions will be useful whether you're from Boston, Birmingham, Brisbane, Buenos Aires, or Beijing.
---
Tip 1: Stay within a city, region, or country.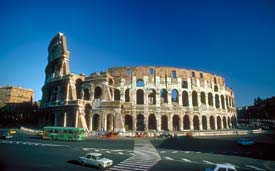 ABOVE: Rome wasn't built in a day, and it can't be seen adequately in less than a week.
If you're an American and you were visiting New York, would you also try to squeeze Boston, Philadelphia, Washington D.C., and Miami into the same trip?
If you're British and you were spending a few days in Edinburgh or Glasgow, would you tack Cardiff onto your holiday itinerary?
Probably not. So why overextend yourself (and your budget) by trying to cram Paris, Lucerne, Venice, Rome, and Munich into a one- or two-week trip?
By limiting your geographic reach, you'll save on transportation costs, and you'll be able to take advantage of other money-saving strategies such as renting a vacation apartment instead of a hotel.
Also, if you're visiting more than one country or city, try to balance a higher-priced destination with a cheaper one: e.g., London and Rotterdam, or Paris with Madrid and Lisbon.
Spending part of your time in interesting smaller cities like Porto, Santiago de Compostela, and Freiburg im Breisgau can lower your overall costs even more.
---
Tip 2: Shop carefully for intercity transportation

.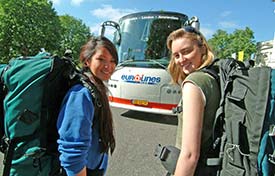 ABOVE: Eurolines buses are a cheap alternative to Eurostar when you're traveling between London and the Continent.
If you're mostly visiting cities and aren't traveling with a large family or group, think twice before tying yourself down with a rental car that you won't be using while you're in town. Instead, use railroads or European budget airlines like Ryanair, EasyJet, Air Berlin, and Transavia to get from city to city.
If you take the train, determine your needs and comparison-shop before spending money on a rail pass. For example, a first-class European Global Pass or InterRail pass will cost an adult hundreds of dollars or pounds. That's great when you're on the rails constantly, but it's an expensive luxury if you're spending most of your time in cities.
When you're traveling in just one country, you might be better off with a single-country or regional railpass. You might even be better off with point-to-point tickets bought locally, if you're traveling relatively short distances or are taking only a handful of train trips.
To learn more about rail passes and train travel in Europe, see our European Rail Passes article.
Finally, if you're on a really tight budget, consider bus travel. From London, National Express offers competitive fares within the UK and to the Continent.
If you need a car, be smart about rentals.
Our car-rental partner, Auto Europe, is a broker that has specialized in European car hire for more than 50 years. It has a "lowest rate guarantee" and offers 24-hour, toll-free international customer service by phone.
If you're driving in Europe for 21 days or longer, you may be better off with a short-term tourist lease (also called a "buyback"). This can be a better deal than a car rental, since rates tend to be lower and all insurance fees are included. The only disadvantages are a smaller number of pickup and drop-off points in Europe and the fact that short-term leases aren't available to residents of the EU.
---
Tip 3: Be selective in your sightseeing.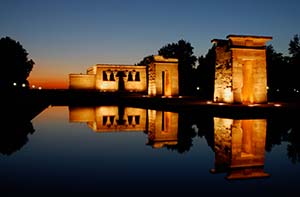 ABOVE: Visits are free at the Templo de Debod in Madrid.
This may be sacrilege to the culturati and guidebook writers, but you can enjoy Paris without seeing the Mona Lisa, and you can appreciate Florence without paying homage to Michelangelo's "David."
If you're pressed for time and cash, save the expensive museums and attractions for another trip. (You can still enjoy art and history, since public statues, architecture, and many churches are free.)
Look for ways to minimize expenses at higher-priced attractions. For example, by walking up to the first and second levels of the Eiffel Tower, you'll save money and avoid standing in line for the lifts. (Skip the top level unless you're feeling flush and have plenty of time to spare.)
Escorted tours from companies like our partner, Viator, can add to the enjoyment of your trip. But if money is an issue (or even if it isn't), investigate cheap local tours that are sponsored by tourist offices. For example:
Madrid's tourist office has English-language themed walking tours from its office on the Plaza Mayor, with prices of only a few euros.
The Paris tourist office runs inexpensive "Meet the Parisians at Work" tours that let you visit such sites as bakeries, chocolate workshops, a violin-maker's studio, and clothing designers' ateliers. (While the tourist hordes are scrambling to catch a glimpse of the Mona Lisa, you'll be rolling croissants or learning how a milliner makes hats.)
Travel writer Jeff Steiner has this tip about freebies and special deals that may not be in your guidebook:
"Ask around at the local tourist office in what ever city you are in. For example, a few months ago we visited Nimes and just happened to go and visit the amphitheatre. They had something on that day (a Saturday) and we, as did everyone else got in free."
Finally, just walking around can be the cheapest and most satisfying travel experience--especially in cities like Paris, Rome, Venice, or Stockholm that have beautiful scenery or monuments at every turn.
---
Tip 4: Don't overspend on hotels.
ABOVE: Booking through a discount reservations service could save you up to 35 percent at the Timhotel Montmartre in Paris.
English-speaking travelers are sometimes nervous about staying at independent, moderately-priced city hotels . But in most European cities, a three-star hotel isn't likely to be a fleabag, and hotels that are even cheaper can be comfortable or even pleasant.
As for four- and five-star hotels, their extra stars may be based on amenities such as elevators and room service, not necessarily on better furnishings and location. (To a great extent, you'll get what you pay for, but if you're on a budget, why pay for services or luxury that you don't need?)
In many cases, you can lower your hotel costs by searching for bargains from secure reservations networks such as our partner, Booking.com, which negotiates discount rates with tens of thousands of hotels around Europe:
Another possibility, if you're staying in one city for more than a few days, is an apartment rental. On one recent Paris trip, we rented a studio apartment on the Place Émile Goudeau (across from the Timhotel) for about the same price as a hotel room. From the apartment's back windows, we could see all the way to Notre-Dame and the Seine.
For listings with photos and reviews by paying guests, see our partners:
Hostels are yet another option, especially if you're flexible about location. Most of today's "youth hostels" have no upper age limits, and many provide rooms for singles, couples, and families in addition to the traditional dormitories. Check our partner, Booking.com, and filter the search results by clicking "Hostels" under "Property types."
Monasteries and religious institutes are also worth considering. For example, even secular humanists can book comfortable cells with private bathrooms at the Augustinerkloster in Erfurt, Germany, a monastery where Martin Luther took his vows as a Catholic priest more than 500 years ago.
---
Tip 5: Don't make every meal a sit-down affair.
ABOVE: Cheryl Imboden (on a park bench behind the statue) enjoys an inexpensive take-out lunch in the Jardin de Reuilly in Paris.
The cost of restaurant meals can add up quickly, especially if you're having a four-course dinner with wine every night. (The good news is that European restaurant prices include taxes and at least part of the tip. Also, in most countries, menus are displayed outside of restaurants, so you can estimate your meal costs before you go in.)
To save money on meals, try these simple tactics:

Be frugal at breakfast. If you're lucky, breakfast will be included in your room rate. Otherwise, whether you should breakfast in your hotel or head for the nearest café depends on what the hotel offers and how hungry you are.
A breakfast buffet may be worthwhile if you eat enough so you won't be hungry at lunch. On the other hand, you can probably save by getting a hot drink and pastry at the nearest café or coffee shop--as one of us did while staying at the Hotel Ibis in Edinburgh (where Chocolate Soup and Starbucks were just around the corner) and in London (where breakfast at a coffee bar cost only a few pounds for both of us, compared to £20 for our four-star hotel's cooked breakfast, which was more than we wanted to eat before heading for the airport).
Enjoy take-out meals at lunch. In France, for example, bakeries often sell sandwiches for a few euros, or lunch combinations that include a sandwich, a drink, and a pastry for less than €10. (These are popular with local workers, who pay with lunchtime meal vouchers from their employers.)
In Italy, bakeries and take-out pizza businesses often sell pizza by the slice. In Britain, pasties and meat pies are readily available. And throughout Northern Europe, Turkish "Döner,""Donner," "Kebab," or "Kebap" shops sell gyros-style meat sandwiches at bargain prices.

For every dinner in a "nice" restaurant, have one meal at a cheaper place. This doesn't have mean junk food: It could be a café or pub that serves sandwiches, or a cafeteria like Flunch (France) or a quick-serve pizza restaurant like Spizzico (Italy).
Also, don't assume that "nice" has to mean "outrageously expensive." The Tour d'Argent and Harry's Bar may be worth every euro-penny of their high prices, but they're best enjoyed with a trust fund or an expense account. (Most locals don't eat at such places, either.)
Instead of sitting in a café, look for a park bench. Sidewalk cafés are designed--and priced--for lingering. Unless you're in a mood to watch the world go by (and can afford to pay for the privilege), rest your feet or study your map somewhere else.
Just as important, don't assume that all cafés are the same. You might pay twice as much for a cup of coffee at a world-renowed mocha mecca like Florian (Venice) or Deux Magots (Paris) than at a neighborhood café around the corner.
Splurge on litle things. In Scandinavia, any bakery or 7-11 store will sell you a superb Danish pastry for the equivalent of €3 or so--not cheap, but not enough to wreck your budget, either.
In Germany, baked goods, beer, and sausages from street vendors are relative bargains. In Madrid, €3 or so will buy you the richest hot chocolate and the freshest churros you've had in your life at the marble bar of the Chocolatería San Gines, which has been a Madrid landmark since 1894. And in Paris, you'll discover affordable temptations at any bakery-pâtisserie or crêperie.
Learn the local tricks. Example: In Italy (as in many European countries) ordering a drink or snack at the bar is nearly always cheaper than having it served at a table.
---
Tip 6: Walk, or use public transportation wisely.
ABOVE: Walking is cheap, and you won't have to wait for a ride.
Walking isn't just good exercise: It's also a great street-level introduction to European cities. Even in a large city like Paris, you can walk all the way from Montmartre to the Seine in 45 minutes to an hour. In Venice, you can walk from one end of the city to another in half an hour (assuming that you don't get lost, but that's part of the fun).
Remember this rule: Every time you walk instead of taking the bus or subway, you'll save money.
Avoid taxis. You won't need them if you're reasonably fit and traveling light. (When you're transferring between your hotel and the airport or train station, use buses, trams, or trains the way the locals do. The New York Times may suggest a US $56 taxi ride from Schiphol Airport to central Amsterdam, for example, but that's crazy when the train costs only a few euros.)
Before buying tourist cards or passes for local transit, calculate how often you're likely to use them. Example: A carnet of 10 Paris Métro rides is a good deal, but the Paris Visite pass won't be worth the expense if you're riding buses or trains only a couple of times per day.
Look for local transportation bargains. Example: A 40-minute gondola ride in Venice will cost you €80 or more, but a quick ride across the Grand Canal by traghetto gondola ferry is only two euros.
---
Tip 7: Watch for hidden ATM, credit-card, and exchange fees.
ABOVE: An ATM or cashpoint in Heidelberg, Germany.
Cards:
Many banks and credit-card issuers are now gouging their customers with "conversion fees" and other surcharges on foreign transactions.
Also, prepaid "traveler's cheque cards" can make you feel like the victim of a Parisian pickpocket when you see how little money is left over after you've paid the fees.
Cash:
Currency-exchange commissions and fees can be mind-boggling, so get your cash from ATMs when you can. (A while back, we saw that a Travelex office in Venice was charging an 8.5% commission to change U.S. dollars or pounds sterling into euros, plus a €3,50 handling fee.)
Also, take claims of "no commission" with a grain of salt: The exchange counter may not be itemizing its percentage, but you can be sure that a hefty profit margin is built into the quoted exchange rate.
More info:
To learn about unconscionable fees and how to avoid them, read our articles about money for travelers before leaving home.
---
Tip 8: See our related resources
ABOVE: In Venice, as in most places, some of the best sights in life are free.
Before planning your trip, see our articles index, which will make it easy to find advice on money, packing, transportation, destinations, and other European travel topics.
Also see our "sites within the site," which have massive amounts of information about featured topics:
---
---
Tip 9: Don't worry, be happy.
Don't go wildly over budget, but don't obsess about your trip expenses, either. A year from now, you won't be thinking about how much you spent for a beer, a coffee, or a vaporetto ride up the Grand Canal.
---