Venice > Planning > Top 11 tourist mistakes
Top 11 Tourist Mistakes in Venice
(and how to avoid them)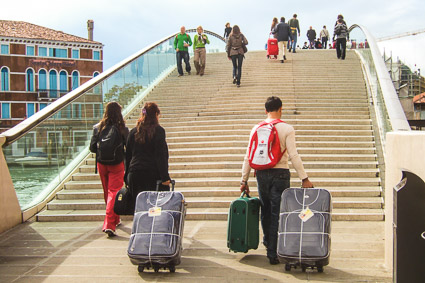 ABOVE: Check your hotel's location carefully before you book, unless you're prepared for a long walk or an expensive water-taxi ride. And remember: In a city without cars, luggage can be a burden.
In the 20+ years since we launched our first Venice travel-planning site, we've seen visitors make the same mistakes over and over--often at considerable cost in time, money, or vacation enjoyment. This article is designed to prevent such glitches, and we hope you'll find it useful.
Important: Our "top 11 list" is not just a clickbait slideshow with captions. On each page, we offer practical advice, often with links to related articles at Venice for Visitors and our parent site, Europe for Visitors.
To get started, go to Mistake #1 or use the navigation menu below.